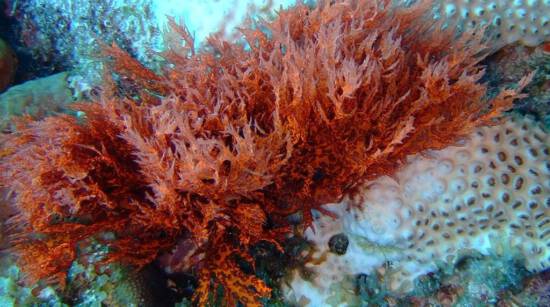 Carrageenan is extracted from a moss. Sulfated polymers are galactose and anhydrogalactose.
With the help of potassium salt, carrageenan is divided into soluble (Landa carrageenan) and potassium-precipitating or potassium-sensitive (kappa carrageenan). There is also a calcium-sensitive component, which is called iota carrageenan. Addition of calcium and potassium can cause rapid formation of carrageenan gel.
Kappa and Landau varieties are important in the food industry.
| Features | Kappa | Landa | Iota |
| --- | --- | --- | --- |
| Reaction with protein | Reaction with kappa casein | Reaction with kappa casein | – |
| Solution in hot water (80 °C) | Soluble | Soluble | Soluble |
| Solution in cold water (20 °C) | With Sodium ion; Soluble – With calcium ion, limited potassium swelling | Soluble | With Sodium ion; soluble- with calcium; solid emulsion thixotropic liquid |
| Gel Formation | Forms a strong gel with potassium ion | Forms no gel | Forms Gel with Calcium ion |
| Returnable Gel | The gel cannot be returned | Forms no gel | Gel is returnable |
| Gel Texture | Fragile | Forms no gel | Elastic |
Carrageenan applications in dairy:
Carrageenan is added to cocoa milk to prevent the deposition of cocoa.
anda Carragarin is used to produce low-fat sauces and to prevent oil absorption by frying products.
Combining kappa and landa carrageenan to create a gel with creamy texture or suspension
Increased concentration and gelation in creamy desserts and mousse
Improving texture and reducing viscosity during the processing of dairy products using iota carrageenan with modified starch
The use of carrageenan in jelly desserts and cake glitters:
The strength and fragility of kappa carrageenan jellies
Flexibility, adhesion and non-synergy of iota Carrageenan jellies
In carrageenan-made jellies, the product gives a similar appearance to gelatin-based jellies
Faster gelling and better stability at ambient temperature are also desirable features of this jelly.
The use of carrageenan in meat products:
Moisture retention and elevation of water holding capacity
Increased baking efficiency
Better slicing
Better mouth feel
The use of carrageenan in beverages: